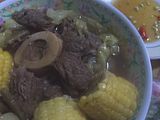 We had this for dinner two nights ago. The hotness of the soup and the tenderness of the meat plus the dinorado steaming rice made our dinner perfect. As if we were eating in a restaurant at Tagaytay where most of the yummy bulalo soup are available (next to Batangas of course).
According to my mom, the secret of a flavorful broth is in the longest time of boiling the beef shank. Before, it took them 2 hours or more to achieve the perfect flavor and I cant wait that long. So I used...tadah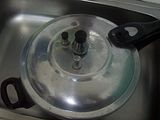 A pressure cooker. It's very useful. I can make my beef shank tender in no time. Still flavorful like the old fashion way of cooking bulalo.

So what I did here...I boiled the beef shank together with onion, garlic, peppercorn, a dash of salt and fish sauce to taste for 35-45 minutes. Start counting the minutes when the pressure cooker start making that noisy sound and when that thing up there that I don't know what it is called start dancing. Be sure that the water is enough so that it wont dries up easily. That happened to me before. I put less water in one of my cooking stint. It ended up that the water was gone quickly and burn my meat. Anyway, so after the 35-45 minutes, unlock and remove the cover of the pressure cooker but be sure you do it properly. I got an officemate who got burn because she just removes the cover without releasing the pressure inside. A tip in removing the pressure is by slowly removing that thing up there that dances to release the pressure or you can bring the cooker on the sink and let the water from the faucet cools it down. So when you've done that, it is safe to unlock the cover. Remove the scum that arise in the soup then simmer it in a low fire, add the potatoes and the corn, simmer for 5-7 minutes. Then lastly put the cabbage until it is cook. Serve hot with fish sauce,calamnsi and crushed siling labuyo. Yummeee or should I say heavenly....