Tagged by
Dexie
. Thanks dearie and like
Toni
, Im posting it with pics.
Sopas
. A bowl of this warm dish isn't enough for me in one seating. With lots of pepper and crispy cabbage. This will surely make my day great
Sisig
.Yum yum…this is dj's favorite. Just imagine… top with lots of onions and pepper flakes and a squeeze of calamansi. Oh la la la. That's why most of the the time hubby goes home early when I cook this dish. It really really works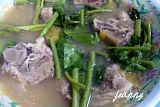 Sinigang
. Who would not love this food. The tasteful soup and the yummy meat. Perfect. A dish I always love to prepare and it never fails to please those hungry tummy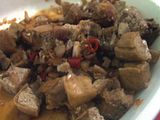 Tokwa't baboy
. Another favorite, You see I just love hot spicy food. With this dish, I put lots of pepper flakes. No matter how hot it is, I still enjoy eating it. Darn Im really getting hungry huh…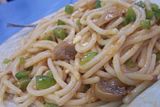 Pasta
. I just love pasta. One thing good with it, you could just put anything, from the plain tomato sauce to the fancy sauces. Aside from that it's easy to prepare. I love my pasta with mushroom and green bell pepper. It just adds an extra ordinary taste to my pasta. Hmmm yummm.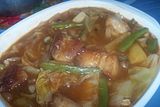 Pochero
. The first time I tasted it, I fell in love with the taste. The combination of the tomato sauce and the sweetness of the banana saba make this dish so so good. I tried making this for the first time 2 months ago. And it was a hit with the family. They just love it. Really getting hungry, do I have to finish this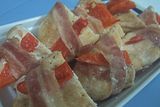 Chicken fillet
. Another favorite of mine. One time, I get bored with the usual chicken cooking I've been doing, so I tried making something different. This chicken fillet is a very easy dish. I wrapped the chicken pieces with bacon and put a slice of red bell pepper, and then I grilled it. Tadah…something new huh.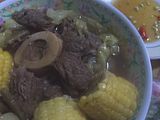 Bulalo
. When we visit Tagaytay, we always make it a point to have a bowl of steaming hot bulalo soup. Ang sarap. Just imagine the meat dip in fish sauce with calamasi. So divine. Then eating the bone marrow with rice, mas masarap. Hmmm…namiss ko bigla tagaytay.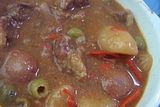 Caldereta
. I so love it. My mom cooks a mean caldereta which most family member requests this during family gathering. I have my own version of this caldereta, which is my potluck contribution, this coming Christmas; it's their first time to taste my caldereta. Hope they'll love it. Really getting hungry na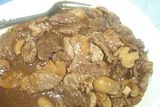 I love this dish
beef and mushroom in oyster sauce
because, it' so easy to do. so tasty and it has mushroom. See I just love this cutie umbrella. Can I have a rice now, yummm…did I say Im hungry na
Now I know how it feel. Finishing this meme only makes me go nuts. Imagine, I want to eat but I can't, it's past 2am, it's too late to eat. Anyway, Im tagging all those people who loves to eat and learning to cook. I know whom you are so better answer this meme na