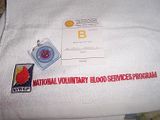 Yesterday, our office held a blood donation program with the help of the Department of Health. The project was called
National Voluntary Blood Service Program (NVBSP)
. Ten employees including me donated 450-500cc of blood. It's my 2nd year in donating in this program and it really is fulfilling knowing that you'll be helping those patients suffering from
1.shock
2.lost 20% or more of blood in an accident
3.loss in surgery
4.leukemia
5.childbirth
6.major trauma
7.liver transplants
8.hemophilia
After donating, the people from NVBSP gave us keychains, towels and and IDs where our names and blood type is written.

The needle used in getting blood is a bit bigger, about 2-3mm diameter than that ordinary syringe used to inject or withdraw fluid in hospitals. Believe me, it doesn't hurt. It's like, an ant biting you. So Im encouraging you guys to give some and save lives.

Happy Weekdays everyone.