"What the world needs now
is love, sweet love
it's the only thing
that there's just too little of
What the world needs now
is love, sweet love,
no not just for some
but for everyone."
...Yeah, that is all we need, be it with our friends or family or the cute guy next door. I do remember, when I was in my teenage years, I always received roses or chocolates from my so called boyfriend during the 14th of February. My Valentines day only means dating, those fancy dinner or the dozen roses that I will receive. Geez, I don't really even know what love really means

But now, that I found my real love, who gave me a nice TV rack last valentine, instead of those fattening chocolates or those roses that will only makes me sneeze, I know how to give love in a more meaningful way. Love which is pure & modest. A love which only wants a relationship that is for keep.

And to you my labs, Happy heart's day.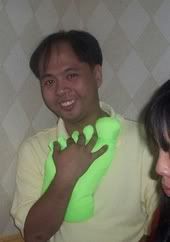 Happy Valentines to all!