Two days ago, an officemate of mine prepared a Chicken recipe which he learned from
Food Network
. It was really yummy and I loved it. The Chicken was in white sauce with chicken liver, chicken gizzard, and veggies. I said, "this is tasty. I think this will goes well with pasta."From that, I was giddy to try my own version of that recipe for pasta.
Friday after work, I made a fast trip at the grocery, mainly to prepared all the ingredients that I need. When I all have the stuffs for my cooking, I was aware that my grocery bag will be a bit heavy...then I saw this favorite of mine...Drysdale Mango juice. I initially wanted to buy a bottle since were running out of stock in our fridge but my grocery bag is a bit heavy na. Taking a cab will help but the supermarket is just 15 pesos away from home if taken an FX. Oh well guess I got to wait till Sunday to asked hubby to have our weekly grocery... then I spotted this...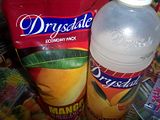 yehey, I can have my juice in a much lighter pack and in a lesser price. I don't know if this pouch pack is new to the public,it's my first time kasi to buy and purchase it. The only thing I have to do is refill an empty cleaned bottle and put in in a fridge. So I bought two packs. Each pack is in a liter pouch pack at 50% less the price, while the same product in a bottle container has a 1.5 liter costing 90-100 pesos. Nice buy right.
After that quick trip, I went home and had everything prepared which are as follows...

Half a kilo pack of pasta. Cooked as package direction
cup of button mushroom (drained)
cup of corn kernel (drained)
a can of all-purpose cream
a can of cream of mushroom
a can of evaporated milk
cooked chicken (boiled and cut into strip. Set aside the broth)
crushed garlic, onions
salt and pepper to taste
oregano (any herbs will do)
cornstarch dissolved in a cup of water

So what I did...

Saute garlic and onion in oil. Add the cooked chicken. In a separate bowl, mix well together the cream of mushroom, all-purpose cream, milk and the chicken broth. Then pour the liquid mixture over the sauteed chicken. Simmer...simmer. Add the mushroom and corn. Drizzle with salt pepper and oregano depending on your taste. After a minute, add the dissolved cornstarch just to thicken the sauce. If it thickens, its done. You can pour the sauce on top of the pasta or mix the pasta and sauce together like what I did to make the taste consistent.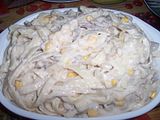 I gave a plate of pasta to my sister, and she said it was really yummy. Pede na na raw ulit akong pakasalan ni Dj. lolz

It was also a sure hit with hubby. Jeanny's Chicken mushroom pasta and a glass mango juice melt his heart away :D