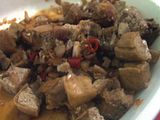 this recipe is a different version of the tokwa't baboy which is yummy for pulutan... but we prefer this with rice. Both hubby and I love spicy food. So this dish really rocks our dining table
It's very easy to prepare. All you have to do...

about 4 pcs bean curd fried and cut it into cubes
half kilo pork (I used liempo)deep fried and cut into cubes
chopped several onions, the more the merrier
then pure calamsi juice (i squeeze 10 calamsi for this recipe but of course you can use more
about half a cup of soy sauce (again add more if you want)
chopped siling labuyo (I used 10 pcs for this)

Just mix, mix, mix all of them. Let them dance and be happy. If everything has been mix, taste, taste, taste. Grab some beer or rice and enjoy.