I was at the grocery the other day, while I was pushing my cart, I spotted the pre-marinated teriyaki pork strips of Monterey at the meat section. Since I was running out of ideas for dinner, I opted to buy a half-kilo of it. When the butcher handed me the package of the item I bought, I then realize, I haven't tried cooking pork teriyaki yet. I know its an easy recipe but I don't know how to start. Hmmm...
While I was in the middle of thinking on how to prepare pork teriyaki, I saw this.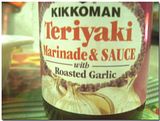 Kikkoman teriyaki marinade & sauce with roasted garlic
At first I was hesitant to buy it. I was worried if the teriyaki sauce with roasted garlic will goes well with the pre-marinated pork that I bought. Since this kikkoman sauce is something new to me, so im not sure of it. I thought I should have spotted this bottle first and bought a fresh pork instead and use the sauce as it's marinate. Oh well, I have to trust my taste buds (and the kikkoman brandname of course).

At home, I tried tasting the sauce. It was yummy and the flavor of the roasted garlic made it much tasty. I guess I made a right decision anyway. I then prepared all the ingredients and started hitting the stove.

So what I did here...

Drizzle some oil in the pan, just enough to make the pan greasy. Then slide the marinated pork strips. Stir fry until the pork is tender. No need to saute garlic since Im using a flavored garlic sauce. Then pour in the teriyaki sauce. Just enough to cover the meat. I was about to add sugar to sweetend it a bit then I remember that I have a can of pineapple chunk so I opened it, and pour the syrup first. Simmer for say 3 minutes. Then add the chunk pineapple. Then mix. Add a dash of pepper. Then voila an easy pork teriyaki.