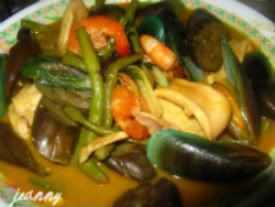 Hubz love karekare so much but since I wanted a much healtier version, I opted to make seafood kare kare instead. This is a simple dish. you'll just need: 10 pcs mussel (tahong) 10 pcs clams 10 pcs prawns half kilo sliced squid squid (calamari) eggplant sliced string bean pechay banana blossom about 1/4 cup 4 spoonful peanut butter 1-pack mama sita kare kare mix dissolve in 1 cup water onions and garlic shrimp paste
Then:
Steam the seafood about 8-10 minutes, dont overcook. set aside. In a saucepan, saute the onions and garlic. Then add the eggplant, string beans saute for 5 minutes. add the pechay then the banana blossom. Set aside.
In a separate saucepan, saute another batch of garlic and onion, add the diluted kare kare mix (makes life easier :) ). Simmer for a minute add peanut butter, to make it more tastier. Lower the heat and occasionaly stir to avoid the sauce from burning. If the sauce thickens add the steam seafood and vegtable. Let it simmer for a minute. It's done. Easy right?
Serve with shrimp paste (I want my bagoong spicy)...yummy :)