A chinese dish that I loved and wanting to prepare is the Sweet and Sour Pork. I have compiled recipes for this and promised that will try making soon. Then, I saw in a magazine that Mang Tomas (yes the ever famous liver sauce) is not only for lechon now but in some home cooking as well. They offer teriyaki, barbeque, chili and the sweet and sour sauce.
And so...I got a bottle of the sweet and sour sauce in one of our grocery trip. I tried making the dish for the first time for dinner this evening. The cooking instructions were written at the back of the bottle and it was easy as 1,2,3. But it requires fish. So I replaced the fish with pork and add some little ingredients to it.
All you'll need are...
half kilo pork ( I used kasim) cut into 1-1/2" x 1-1/2"
Half cup red bell pepper
Half cup green bell pepper
Carrots cut into cubes
small can of pineapple chunk, drained and syrup set aside
1 onion chopped
a cup of evaporated milk
one beaten egg
A bottle of Mang Tomas Sweet and Sour Sauce. You'll need more than half of the bottle
A cup of flour
I dont have a stock of this. I only have the Japanese breadcrumbs, which is used for tempura. Since the jap bread crumbs are grainy, I powderized it a bit with our grinder. Voila I got this.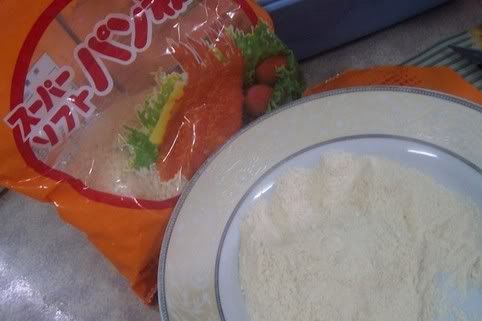 Then I just mix the milk and beaten egg in a bowl. Soak the pork in the milk and egg mixture. Set aside for 15 minutes. While waiting, mix the flour (in my case the jap bread crumbs). Drizzle some salt and pepper. Then after 15 minutes, coat the pork pieces with the flour mix then deep fry until golden brown then transfer in a platter.

For the sauce, this is very very easy...stir-fry the diced bell pepper, the green and the red (well I only have the red bell pepper). Then add the chopped onions, pineapple, carrots. Then pour the Mang Tomas Sauce. Add the pineapple syrup. Simmer a bit. Then Slide in the fried pork pieces. Mix until all the meat is cover with the sauce. Then it's done. Easy isn't it and it's yummy too. I tasted it, can't wait for dinner :D

Who would ever notice that I did get some help here.

I'll hide the bottle by the way :D