Vacation time!!!! It's nice to go swimming. Have you gone swimming na ba? Enjoy the sand, the water, the sun.... Hovewer, we should be armed with these;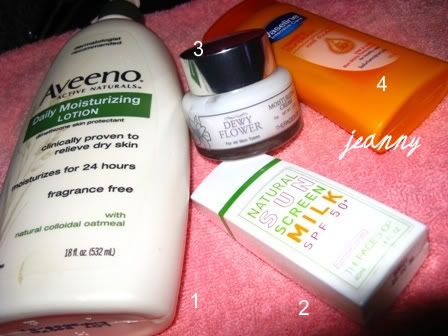 My favorite thing to bring during swimming
1. Moisturizing lotion. Aveeno lotion is a nice product :)
2. sunscreen spf50 (from the faceshop). I used this to combat the damaging UV ray.
3. my daily moisturizing cream from the faceshop. I love this product.
4. Vaseline sunblock spf 30. Sobrang mahal kasi yung ibang brand so I opted to buy this. This sunblock is so useful.
This what I usually bring whenever we go swimming. Now if were going on a real vacation, actually the longest was always 3 days and 2 nights because hubz and I go to work (cannot afford to be absent on Mondays). Upon planning, we check the budget of course. Then if financial side is okay, I proceed to the hotel/place reservation. If our car wont be possible, I'll check on what means of transpo we'll be using. On the trip day, I usually bring a big bag. Clothes good for a week, hahahaha! Then I bring a small bag for my other things such as lotion, shampoo, toothbrush, toothpaste and the likes. So you could imagine that I bring our house with us lolz. Then I search the net on where to visit on that particular place that will be staying and of course, I wont forget my camera. So I guess that's about it. Hope this will do.
Red
was a bit
curious what necessary and uncessary things you bring on your trip or vacation and how do you plan your travel.
This is my take for his
Tambayan on Tuesday
carnival! Red I enjoyed this. :)